HOME

MetaVu

Making Sense of Data

ECO

infosphere

SMARTECOcities


C-IQ

Collaborative Intelligence

BEACONBio- Evolutionary Advanced Concepts

ESAC

Earth Science & Astrobiology Collaboratory




People



Links



© ECOdesyn Lab 2009 – 2012

Links
Decision Support
NASA CASA – Carbon Accounting
Disaster Preparedness
ESRI GEO Portal (Global Disaster Alert & Coordination System)
National Infrastructure Simulation and Analysis Center (NISAC) is a modeling, simulation, and analysis program at Sandia Labs that prepares and shares analyses of critical infrastructure and key resources including their interdependencies, vulnerabilities, consequences of disruption, and other complexities. NISAC is under the direction of the Department of Homeland Security's (DHS) Office of Infrastructure Protection (OIP).
Water
Water (distributed storage, adaptable systems, intelligent meters) is the big, untapped opportunity where smart systems can make a huge contribution. The critical link between water shortage and fire hazards needs to be coupled.
CNN: The Business of Water
Drought Monitor— World Business Council on Sustainable Development
India – Water Portal – Model
Kinrot Incubator (Israeli model)


Links to pdf files of papers coming soon.

If you don't have the Acrobat Reader you can download it for free here.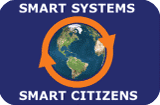 Zann Gill speaks at SAP Labs Future Salon on
smart systems • smart citizens

Recommended:
Articles & Talks
Al Gore – An Inconvenient Truth & Our Choice

Al Gore – TED Talk

Paul Ehrlich, The Evolution of the Dominant Animal. Commonwealth Club, April 15, 2009 argues that our traffic and city planning paradigm must change if the human race aims to survive.

Dr. James Hansen, NASA Climate Change Scientist on the urgency of climate change response

Garrett Hardin. "The Tragedy of the Commons." Science. December 13, 1968. vol. 162. p. 1243-1248.

Crisis Response
72 Hours
FEMA – Be Ready
FEMA – Are you ready guide?
UNEP Global Risk Data Platform (2011)
Google C-R Tools
National Center for Disaster Preparedness
Sunnyvale – Urban Model

Energy and Security
Ken Berlin. A Framework for Achieving Energy Security and Arresting Global Warming. American Progress. December 4, 2008.

Steve Connor. A Warning: Global Oil Supplies are Running Out Fast. The Independent. August 3, 2009.

Bracken Hendricks. Wired for Progress: Building a National Clean-Energy Smart Grid. American Progress. February 23, 2009.

Healthy Cities
Los Angeles – Model

Problem-mapping for collaboration & visualization:
Data City Research Network
Energy.gov
Gapminder
Gapminder World
Gapminder World – Structure
Geothermal Energy Summary
Geothermal Home Heating
Greenbiz News
Green Map System
LEED Certification
National Renewable Energy Lab
NREL Tools
Planetary Skin
Science Daily News
Woods Institute Seminars
Sustainability Consortium
Urban ECOmap
US Energy Information
Visible Strategies

Collaborative Networks
for ECO-knowledge-sharing
Wiser Earth, founded by Paul Hawken to spur collaboration
Zerofootprint.net a startup with a sustainable business model